Juju Stories
Starring: Belinda Agedah Yanga, Paul Utomi, Elvis Poko
A three-part anthology film exploring juju (magical) stories rooted in Nigerian folklore and urban legend, written and directed by the Nigerian new wave cinema collective known as Surreal16.
Jan 26, 2022 to Jan 27, 2022
Singleholic
Starring: Erica Ash, Vanessa Williams, Stephen Bishop
Story of a woman who moves to Mauritius to complete her PhD after a painful breakup with her boyfriend. While there, she goes on a series of dating encounters only to realize that the key to happiness is for her to first be comfortable in her own skin.
Jan 26, 2022 to Jan 27, 2022
Superstar
Starring: Eku Edewor, Nancy Isime, Timini Egbuson
Superstar is a romantic drama about the rise to stardom of an up-and-coming actress Queen, as she navigates life and love in 21st century Nollywood. She must find the balance between artistry and stardom, whilst surviving the demons of her past.
Jan 26, 2022 to Jan 27, 2022
Rancor
Starring: Alesh Sanni, Bimbo Thomas, Clarion Chukwura, Lateef Adedimeji, Nancy Isime
Rancor is a tragic drama with a super plot twist that tells the story of Dasola who has an inexplicable hatred for his asthmatic patient brother "Murewa . This breaks their mother's heart as all she ever wanted is for the two siblings to love each other unconditionally as siblings should.
Jan 26, 2022 to Jan 27, 2022
Spiderman: No Way Home
Starring: Tom Holland, Zendaya, Benedict Cumberbatch
With Spider-Man's identity now revealed, our friendly neighborhood web-slinger is unmasked and no longer able to separate his normal life as Peter Parker from the high stakes of being a superhero. When Peter asks for help from Doctor Strange, the stakes become even more dangerous, forcing him to discover what it truly means to be Spider-Man.
Jan 26, 2022 to Jan 27, 2022
Christmas in Miami
Starring: Isaiah Samuel Garcia, Manoj Chandra, Osita Iheme
This 'mini' Olympics of Christmas is a multi-ethnic story of unity in diversity. It celebrates how we are all different, but the same, or how we are all 'same difference'. 
Jan 26, 2022 to Jan 27, 2022
Over Her Dead Body
Starring: Nse Ikpe-Etim, Gregory Ojefua, Taiwo Solanke
Bluntly reminded of her mortality by an armed robbery attack in faraway Ibadan, Zara's mother-in-law, Mama, arrives unexpectedly with 'Cousin Simbi' on an extended stay. She has one mission resulting from that near-death experience; to embrace her grandchildren before she dies. Unfortunately, she has none.
Jan 26, 2022 to Jan 27, 2022
Aki and Pawpaw
Starring: Osita Iheme, Chinedu Ikedieze, Chioma Okafor
When a group of people from different walks in life meet in a bus on their way home for Christmas, they find themselves entangled in a cat-and-mouse game with criminals.
Jan 26, 2022 to Jan 27, 2022
Sing 2
Starring: Matthew McConaughey(voice), Reese Witherspoon(voice), Scarlett Johansson(voice)
Buster Moon and his friends must persuade reclusive rock star Clay Calloway to join them for the opening of a new show.
Jan 21, 2022 to Jan 27, 2022
Dinner at My Place
Starring: Timini Egbuson, Sophia Alakija, Bisola Aiyeola, Uche Nwaefuna
t was meant to be a simple dinner at his place but things took an unexpected turn.

Is it for the better or worse?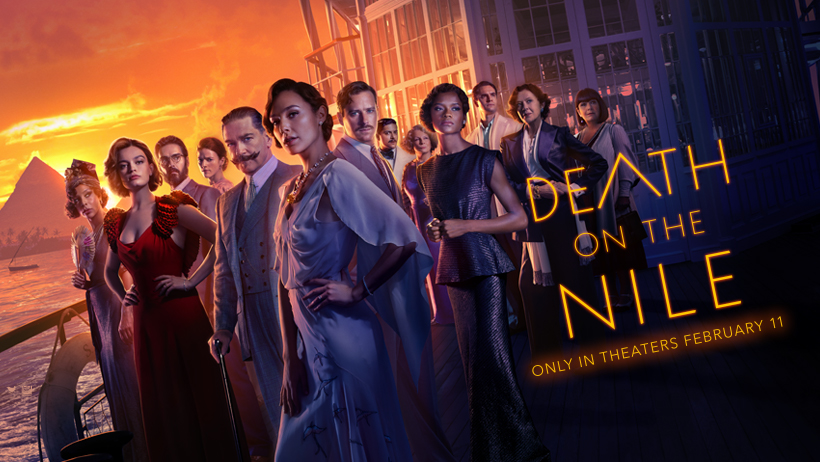 Death on the Nile
Starring: Kenneth Branagh, Gal Gadot, Tom Bateman
Belgian sleuth Hercule Poirot's Egyptian vacation aboard a glamorous river steamer turns into a terrifying search for a murderer when a picture-perfect couple's idyllic honeymoon is tragically cut short.
Before Valentine's
Starring: Uche Montana,Yvonne Jegede, Ngozi Nwosu
This February get ready to go on a thrilling ride.
Uncharted
Starring: Tom Holland, Mark Wahlberg, Sophia Ali
The story is a prequel to the games, starring Holland as a younger Drake, showing us details of how he came to meet and befriend Sully.
Ambulance
Starring: Jake Gyllenhaal, Eiza González, Yahya Abdul-Mateen II
Needing money to cover his wife's medical bills, a decorated veteran teams up with his adoptive brother to steal $32 million from a Los Angeles bank. However, when their getaway goes spectacularly wrong, the desperate thieves hijack an ambulance that's carrying a severely wounded cop and an EMT worker.
Learn about our prices or contact us for enquiries